4x4 Engineering Competition Oil Series
High performance engine oil designed for use in 4WD competition. Demonstrates full engine performance under severe conditions.
Scroll
For cross-country and off-road driving, "for four-wheel drive to be used as four-wheel drive.
It was developed on the premise that it would be used under high-load driving conditions such as in competitions.
This product is recommended not only for use in competitions, but also for vehicles used under "severe conditions" in general use.
We invite you to experience its performance.
Definition of Severe Condition
If driving on rough roads is more than 30% of the total distance traveled
High mileage (more than 20,000 km/year)
When mountain roads and hill climbing account for more than 30% of the total driving distance
If you often drive short distances (less than 8 km per trip)
Premium for Engine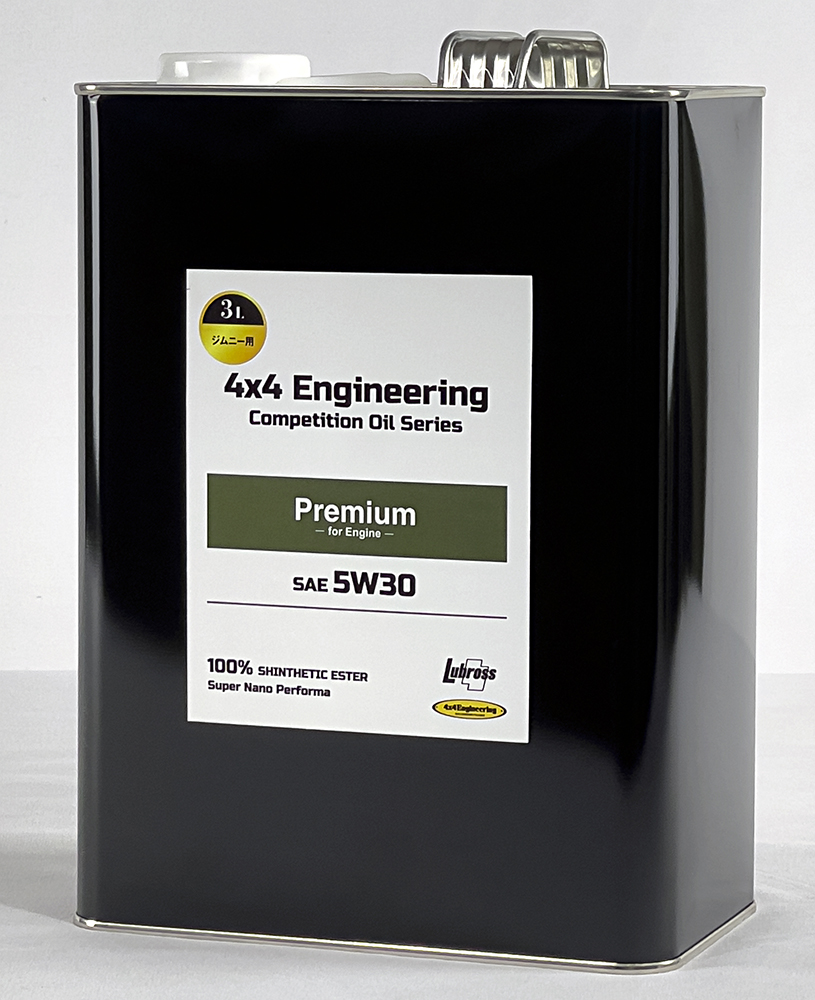 *The photo shows a 3L can.
Specially designed for Jimny&Jimny Sierra. This is the engine oil for Jimny.
[Part Number]
EO530-P3 / EO530-P4
[Specifications]
Base Oil / 100% chemical synthetic oil
Viscosity / 5W30
API / SP
ILSAC / GF-6
Content volume / 3L / 4L
[Price]
content size 3L(for JIMNY) / 4,950yen(Tax included)
content size 4L(for JIMNY SIERRA) / 6,490yen(Tax included)
[Performance and Features]
The main target was set on the Jimny and Jimny Sierra, and it was developed with attention to detail.
It is designed to be used with all models of Jimny as well as the current model.
In the current model of Jimny, it has been finished to maintain smooth driving and keep-clean performance.
For older model Jimny's, this product protects the engine from oil leaks.
Our original Nanoperforma Technology has succeeded in reducing metal wear inside the engine at low speeds by immediately absorbing into the metal. By suppressing wear, a smooth engine feel and improved fuel economy are realized.
While Jimny's genuine oil deteriorates after about 2500km under severe conditions, "Premium for Engine" provides smooth and quiet driving for about 5000km under the same conditions.
(The definition of severe condition is as above.)
Super Premium for Engine
*The photo shows a 3L can.
This oil is specially designed for the Jimny & Jimny Sierra, which runs remarkably smooth and quiet from low to high RPM.
[Part Number]
EO530-SP3 / EO530-SP4
[Specifications]
Base Oil / 100% chemical synthetic oil
Viscosity / 5W30
API / SP
ILSAC / GF-6
Content volume / 3L / 4L
[Price]
content size 3L(for JIMNY) / 5,940yen(Tax included)
content size 4L(for JIMNY SIERRA) / 7,920yen(Tax included)
[Performance and Features]
Based on the [Premium for Engine] designed specifically for the Jimny & Jimny Sierra, the details have been further brushed up to create a smoother running Jimny under all conditions.
It is designed to be used with all models of Jimny as well as the current model.
In the current model of Jimny, it has been finished to maintain smooth driving and keep-clean performance.
For older model Jimny's, this product protects the engine from oil leaks.
The proprietary Nanoperforma Technology immediately adsorbs to the metal to reduce metal wear inside the engine at low speeds. The Nanoperforma Technology has succeeded in reducing metal wear inside the engine. By reducing wear, we have achieved a smooth engine feel and improved fuel economy.
Furthermore, the inclusion of liquefied molybdenum reduces metal wear at high RPM as well. Therefore, engine protection, smooth running, and improved oil durability have been achieved in the entire RPM range.
While Jimny's genuine oil deteriorates after about 2500km under severe conditions, "Premium for Engine" provides smooth and quiet driving for about 5000km under the same conditions.
(The definition of severe condition is as above.)