REAR LADDER
Simple style.
Strength you can count on.
Scroll
Specially designed for each model with both functionality and styling.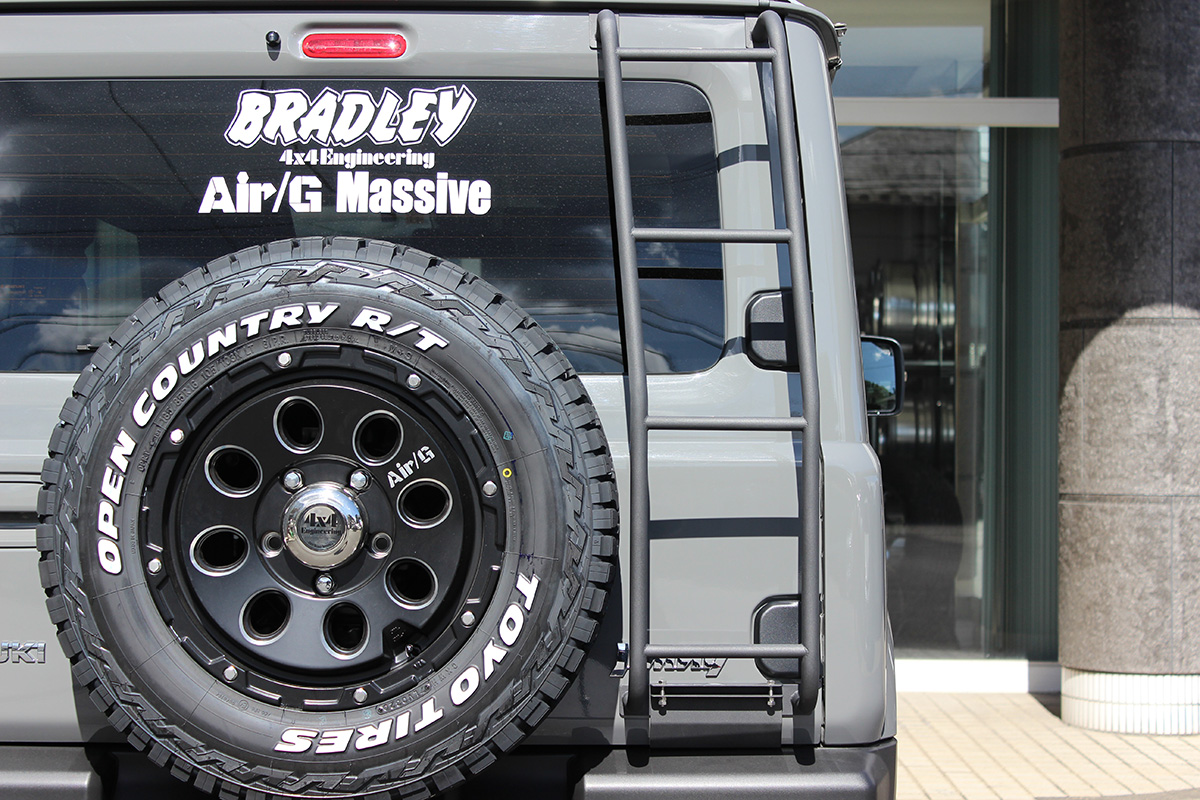 The rear ladder is not only convenient for loading cargo on the roof carrier, but also adds a stylish touch to the exterior. It is specially designed for various models.
The optimum pipe diameter was selected for ease of getting in and out of the vehicle, and the load bearing capacity was increased by inserting and welding.
In addition, careful finishing treatment is applied in the final process, with the owner's high level of satisfaction in mind. Furthermore, consideration was also given to the shape of the car so as not to obstruct the rear view as much as possible.
There are two types of materials used: stainless steel (SUS304) and steel. Please select the one that best suits your application.
REAR LADDER LINE-UP
TOYOTA
LAND CRUISER 70,PRADO
LAND CRUISER 80
HILUX SURF
Item Number

THL-B01

Matching

HILUX SURF 21#series
H14.10-H21.8(Oct.2002-Aug.2009)

Price(Tax included)

¥48,000(¥52,800)

Material

SUS304ステンレス ハンドバフ仕上げ
(SUS304 stainless steel, hand buffed)

note

ベンド(曲げ)タイプ・パイプ系φ27
純正スポイラー付き車装着不可

Item Number

THL-B03

Matching

HILUX SURF 21#series
H14.10-H21.8(Oct.2002-Aug.2009)

Price(Tax included)

¥52,000(¥57,200)

Material

ブラック塗装(Black Color)

note

ベンド(曲げ)タイプ
パイプ系φ27
純正スポイラー付き車装着不可
SUZUKI
JIMNY JB64,JB74
Item Number

SJ-C01

Matching

JB64
JB74

Price(Tax included)

¥41,500(¥45,650)

Material

SUS304ステンレス ハンドバフ仕上げ(SUS304 Stainless Steel Hand Buffed Finish)

notes

パイプ径サイドφ22
足載せ部分φ16
上下挟み込みボルトオン取り付け
JB64/スペアタイヤサイズ185/85R16まで対応
JB74/スペアタイヤサイズ215/75R15まで対応
スペアタイヤ装着位置を変更した場合は取付不可
※写真ラダー下部の4x4エンジニアリングプレートは付属いたしません
MITSUBISHI
PAJERO
Item Number

MP-A01

Matching

PAJERO V6/7#series/H11.9-H14.8(Sept.1999-Aug.2002)

Material

SUS304ステンレス ハンドバフ仕上げ
(SUS304 stainless steel, hand buffed)

Price(Tax included)

¥49,000(¥53,900)

note

ベンド(曲げ)タイプ/パイプ系φ27/リアアンダーミラー対応/リアガーニッシュ無し車専用
リアデフレクター付き車装着不可

Item Number

MP-A07

Matching

PAJERO V6/7#series/H11.9-H14.8(Sept.1999-Aug.2002)

Material

ブラック塗装
(Black Color)

Price(Tax included)

¥53,000(¥58,300)

note

ベンド(曲げ)タイプ/ パイプ系φ27/ リアアンダーミラー対応/ リアガーニッシュ無し車専用
リアデフレクター付き車装着不可
DELICA SPACE GEAR
Item Number

MDS-001

Matching

DELICA SPACE GEAR Standard Roof

Material

SUS304ステンレス ハンドバフ仕上げ
(SUS304 stainless steel, hand buffed)

Price(Tax included)

¥56,000(¥61,600)

note

ストレートタイプ/パイプ系φ27/純正スポイラー対応
※オーダー後の受注生産品となります。納期についてはお問い合わせください。